SC-HSP FULLY AUTOMATIC BLOWING MACHINE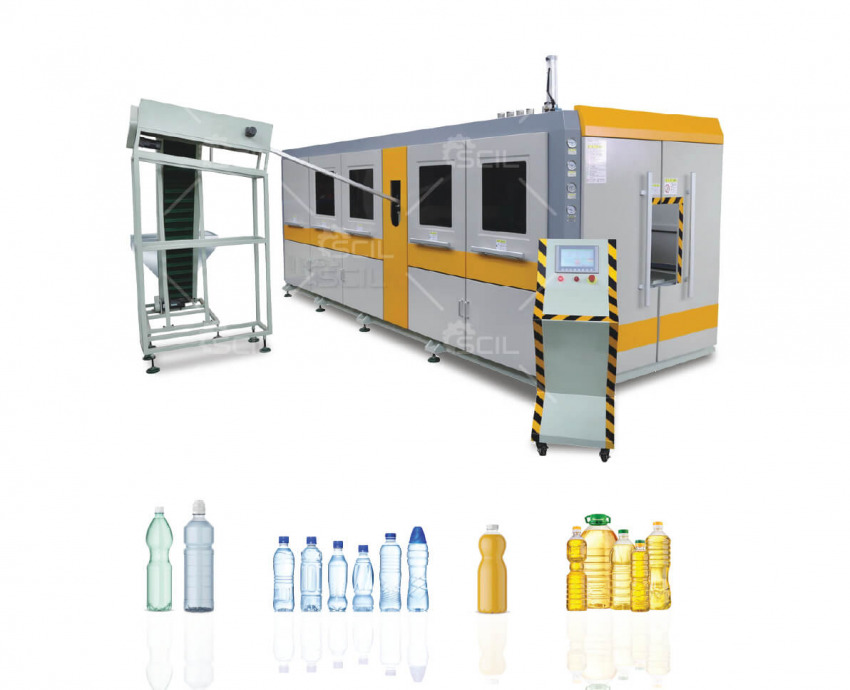 The SC-HSP blowing machine is a new technology with a production capacity of up to 22,000 BPH. It minimizes material waste and offers full control of machine temperature, water pressure, and air pressure through a PLC touchscreen. This fully automatic servo motor bottle blow molding machine can produce PET containers for a variety of drinks, soybean, vinegar, pesticide shapes, and diameters with high efficiency.
The machine has an automobile system and utilizes distant infrared ray heat pipes. It features high-pressure protection and precisely removes molds. The equipment is easy to maintain and includes components from famous companies such as Mitsubishi, Schneider, Airtac, Siemens, and Festo, among others.
The production capacity of the bottles per hour for each machine is as follows:
| | | | |
| --- | --- | --- | --- |
| Machine name: | Cavity: | Capacity up to: | Size up to: |
| SC-HSP4 | 4 Cavity | 7,000BPH | 2.25L |
| SC-HSP6 | 6 Cavity | 10,000BPH | 0.90L |
| SC-HSP8 | 8 Cavity | 13,000BPH | 1.5L |
| SC-HSP10 | 10 Cavity | 16,000BPH | 0.80L |
| SC-HSP12 | 12 Cavity | 18,000BPH | 0.60L |