SCB-00BC Oil Bottle W-handle Fully Automatic Blowing Machine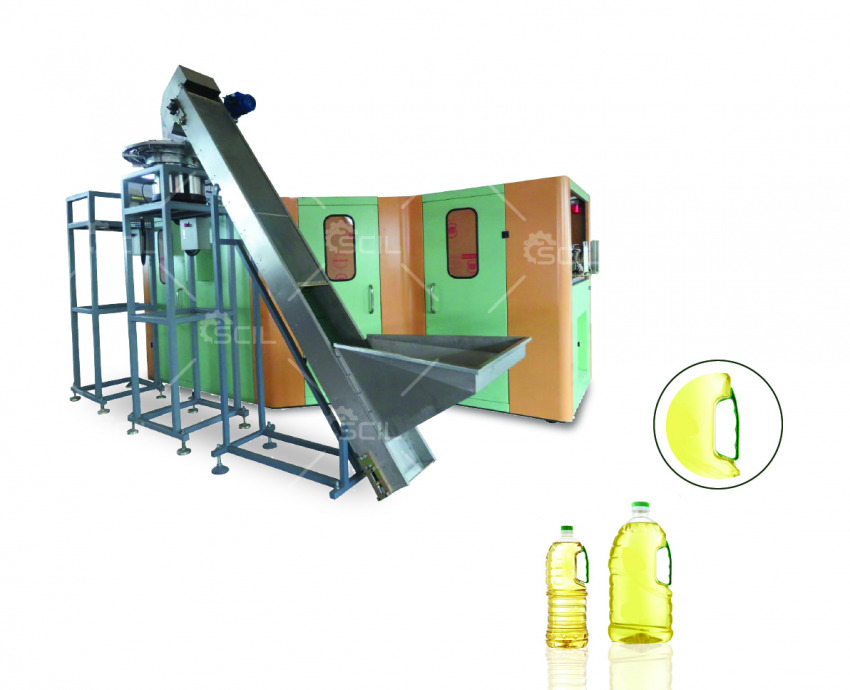 Machine Description
Preform loader system
Stable preform alignment, loading preforms according to capacity;
While performs are aligned in the unscrambler, there is a photocell on each rail which controls the perform loading motor and aligning cylinder.
All these ensure a very precise, high speed and compact mechanical system.
And the whole system is very stable and energy saving.
Heating system
The heating system is mutual feedback and closed-loop system, can works in constant power output, without being affected by voltage fluctuation;
Low energy consumption, heating capacity and lamp position is adjustable;
Preforms are evenly heated and easy to blow;
Recycling the air cooling system in the oven (option).
Servo System Transmission
Mitsubishi servo system ensures high-speed positioning;
When the machine starts up, the preform holders and sealing cylinder are quickly positioned. Servo system greatly improves the blowing efficiency.
Mould Clamping System
Single-cylinder clamps and locks the mould in a very short time, which avoids a very obvious parting line caused by mechanical clamping method.

Change moulds

The whole moulds changing takes only one hour.

Human-machine Interface

Taiwan EV HMI, with a variety of parameters setting function, is easy to operate. Operators can modify the parameters while the machine is running, such as the pre-blowing, second blowing, blowing time, etc.

Easy maintenance

PLC communicates with the machine through a specific cable connection. User can control every movement of the machine through this PLC. Once there is a failure, the machine will alarm and display the problem. An operator can easily find the reason and solve the problem.